Zeitgeist 2012 Trends und Rückblick von Google, Facebook & Twitter
Das Jahr nähert sich dem Ende und es ist die Zeit in der alle auf das Jahr zurück blicken. Aktuell haben Google, Facebook, und Twitter Daten veröffentlicht. Dieser Artikel gibt einen Überblick über die drei Rückblicke dieser Netzgrößen.
Google Zeitgeist 2012
Wie im vergangen Jahr hat Google ein tolles Video veröffentlicht mit Highlights des Jahres, natürlich immer im Kontext von Google-Produkten. Schönes Marketing.
Nn folgen die Trends aus dem Google Zeitgeist 2012.
Trends (im Vergleich zu 2011) Weltweit
Suchanfragen
Bilder
Sportler
Ereignisse
Menschen
Filme
Fernsehsendungen
Künstler
Elektronik
Fluggesellschaften
Google+ Hashtags
Trends (im Vergleich zu 2011) Deutschland
Suchanfragen
Leute
Musik
Fernsehsendungen
Reiseziele
Bildersuchanfragen
Gadgets
Sportler
Fußballvereine
Deutsche Politiker
Deutsche Städte in Maps
Lokale Orte in Maps
Automarken
Facebook Trends 2012
Auf Facebook kann man seine individuellen persönlichen Jahresrückblick erstellen. Unter Facebook.com/YearInReview kann man diesen einsehen, dabei werden automatisiert die 20 populärsten Posts des Jahres an einem Zeitstrahl positioniert.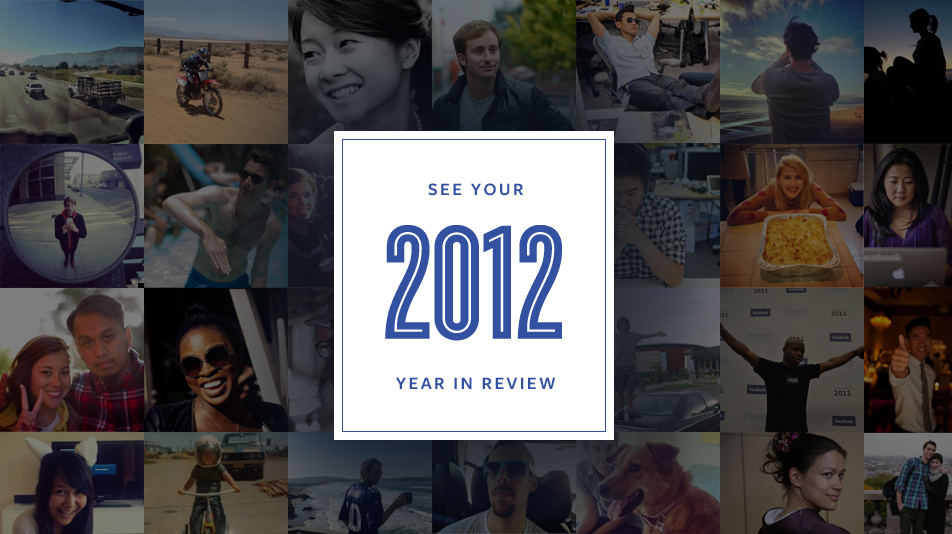 Zudem hat Facebook ebenfalls deutsche Zahlen veröffentlicht: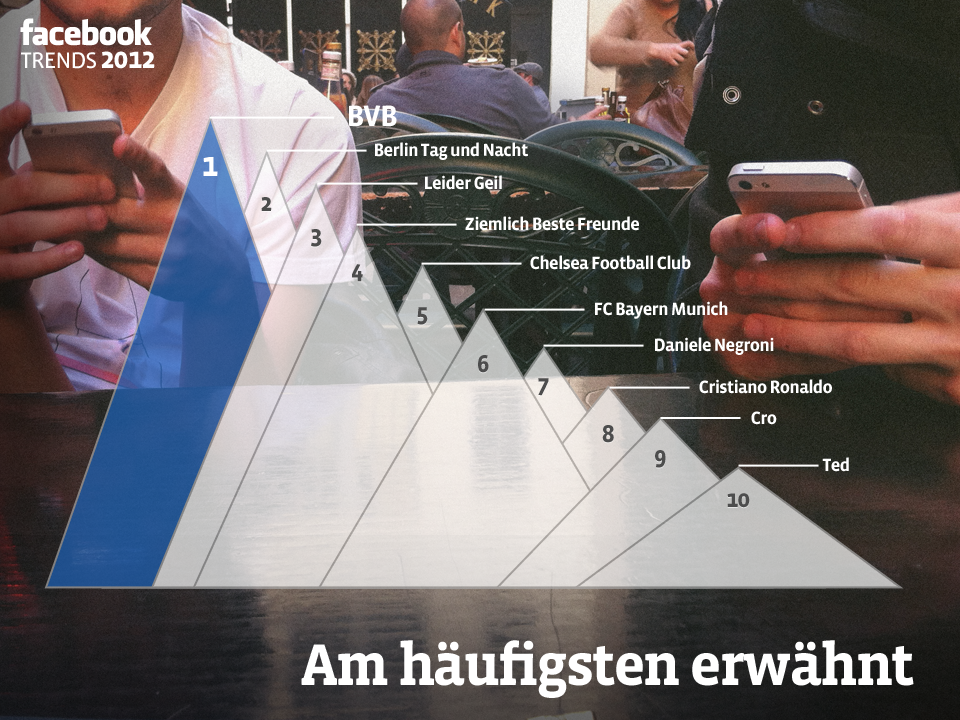 Am häufigsten erwähnt
1. BVB
2. Berlin Tag und Nacht
3. Leider Geil
4. Ziemlich Beste Freunde
5. Chelsea Football Club
6. FC Bayern Munich
7. Daniele Negroni
8. Cristiano Ronaldo
9. Cro
10. Ted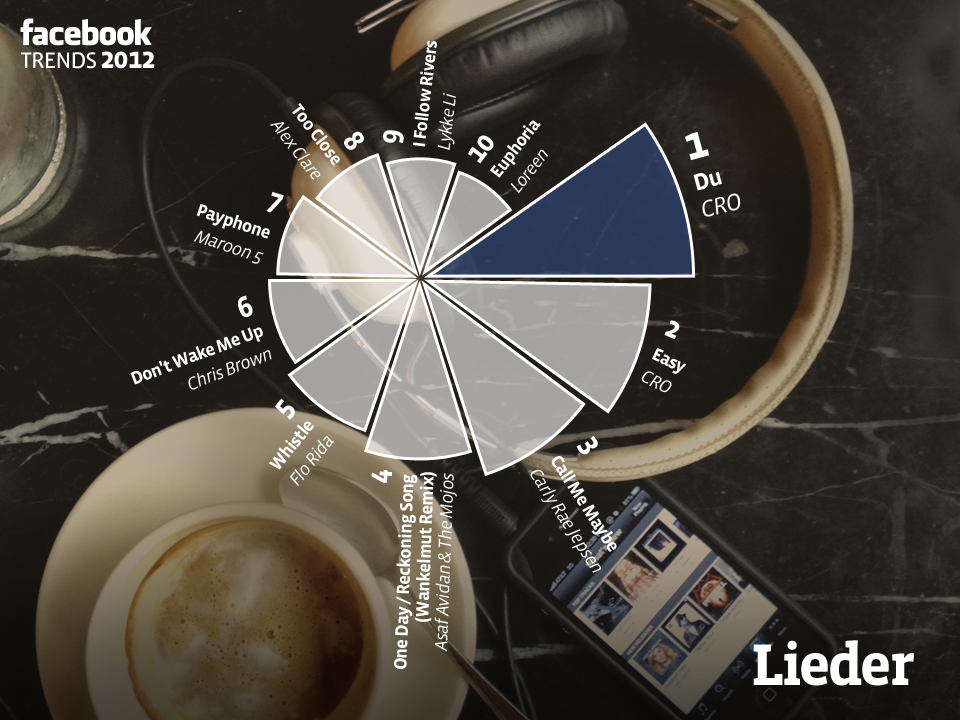 Lieder
1. Du – CRO
2. Easy – CRO
3. Call Me Maybe – Carly Rae Jepsen
4. One Day / Reckoning Song (Wankelmut Remix) – Asaf Avidan & The Mojos
5. Whistle – Flo Rida
6. Don't Wake Me Up – Chris Brown
7. Payphone – Maroon 5
8. Too Close – Alex Clare
9. I Follow Rivers – Lykke Li
10. Euphoria – Loreen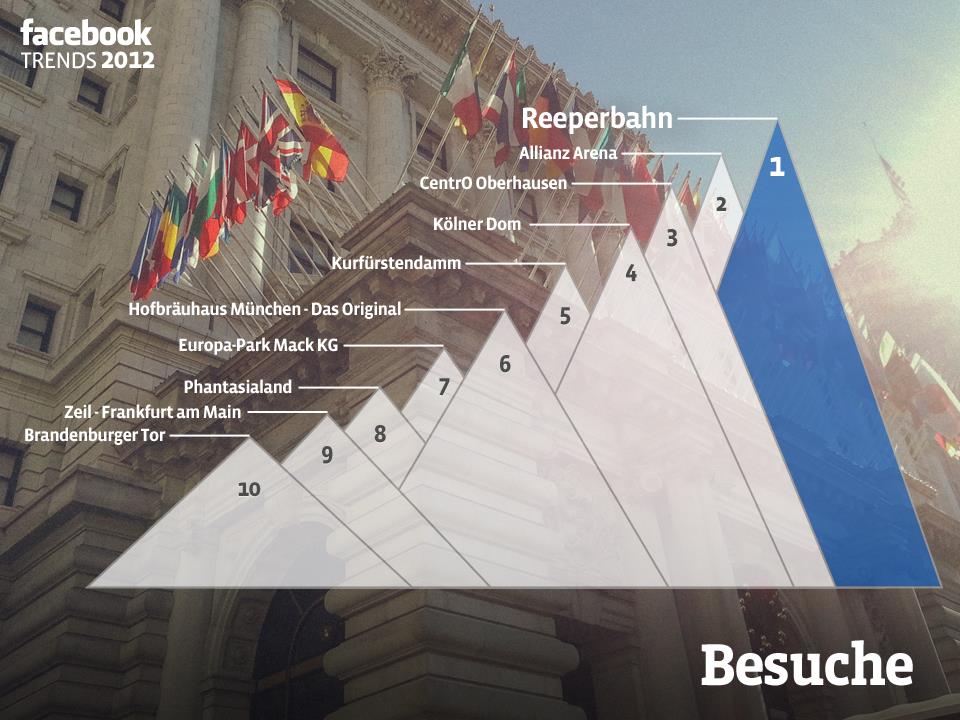 Besuche
1. Reeperbahn
2. Allianz Arena
3. CentrO Oberhausen
4. Kölner Dom
5. Kurfürstendamm
6. Hofbräuhaus München – Das Original
7. Europa-Park Mack KG
8. Phantasialand
9. Zeil – Frankfurt am Main
10. Brandenburger Tor
Die US-Zahlen sind umfangreicher:
2012 Trends – US
Events
US Presidential Election
Superbowl XLVI
Death of Whitney Houston
Superstorm Sandy
London 2012 Olympics
Death of Trayvon Martin
Facebook IPO
Aurora Shootings
Death of Dick Clark
Obama's Endorsement of Gay Marriage
Songs
We Are Young (feat. Janelle Monáe) – Fun
Somebody That I Used to Know – Gotye
Call Me Maybe – Carly Rae Jepsen
What Makes You Beautiful – One Direction
Payphone – Maroon 5
Mercy – Kanye West
Some Nights – Fun
Home – Phillip Phillips
Boyfriend – Justin Bieber
Take Care (feat. Rihanna) – Drake
Movies
The Hunger Games
The Avengers
Magic Mike
The Vow
Twilight Saga: Breaking Dawn Part 2
21 Jump Street
The Dark Knight Rises
Dr. Seuss' The Lorax
Skyfall
Prometheus
Check-Ins
Times Square, New York
Disneyland, California
AT&T Park, California
Yankee Stadium, New York
Rangers Ballpark, Texas
Fenway Park, Massachusetts
Dodger Stadium, California
Universal Studios, Florida
Wrigley Field, Illinois
Angel Stadium, California
Public Figures
Barack Obama
Mitt Romney
One Direction
Tim Tebow
Eli Manning and Peyton Manning (tie)
Madonna
Honey Boo Boo
Jeremy Lin
Paul Ryan
Phillip Phillips
Books
The Hunger Games (The Hunger Games, #1) – Suzanne Collins
Catching Fire (The Hunger Games, #2) – Suzanne Collins
Mockingjay (The Hunger Games, #3) – Suzanne Collins
Fifty Shades of Grey (Fifty Shades, #1) -E.L. James
Harry Potter and the Sorcerer's Stone (Harry Potter, #1) – J.K. Rowling
The Help – Kathryn Stockett
Twilight (Twilight, #1) – Stephenie Meyer
To Kill a Mockingbird – Harper Lee
The Great Gatsby – F. Scott Fitzgerald
Water for Elephants – Sara Gruen
Technology
Instagram
Timeline
Pinterest
Draw Something
iPhone 5
Kindle Fire
SOPA
News Feed
Siri
SongPop
Politics
Barack Obama
Mitt Romney
Voted
Four More Years
Paul Ryan
Rick Santorum
Gay Marriage
Obamacare
The Polls
DNC
Television
Duck Dynasty
Honey Boo Boo
Big Bang Theory
Game of Thrones
Downton Abbey
Breaking Amish
Ink Master
Long Island Medium
Wife Swap
Two Broke Girls
Sports
NY Giants
New England Patriots
Tim Tebow
London 2012 Olympics
OKC (Oklahoma City Thunder)
Denver Broncos
San Francisco 49ers
Eli and Peyton Manning
Jeremy Lin
Los Angeles Clippers
Memes
TBH (to be honest)
YOLO (you only live once)
KONY
One-word Comment
Gangnam Style
Cinnamon Challenge
Cray
SMH (shake my head)
Big Bird
Linsanity
Twitter Trends 2012
2012 war mit Sicherheit das erfolgreichste Jahr für Twitter seit der Gründung. Auch Twitter bietet eine Website um auf das Jahr 2012 zurück zu blicken. Unter 2012.twitter.com gibt auserwählte "goldene" Tweets die sogar ins deutsche übersetzt worden sind, Trends und über den externen Dienst vizify kann man sich sein eigenen persönlichen Twitter-Rückblick auf das Jahr 2012 erstellen.